---
Become a Patron!

Shop at my official Art Store



Become a fan on Facebook



Follow me on Twitter



View my art on Instagram



Watch my stream on Twitch



Subscribe on Youtube


---






---




Art tips and techniques, reviews and interviews from my studio. Archived here and at World Famous Comics.



Comics 101 Archives


Comics 101 for 02/19/2004
Crimson Dynamo Interview with Alex Ness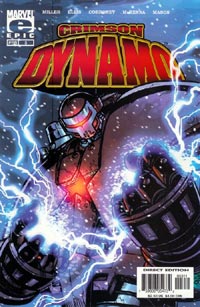 Last October I was interviewed by writer Alex Ness regarding my work on the new Marvel Comics series, Crimson Dynamo. Check out the interview below and then head over to Alex's very cool site, PopThought.com for more interviews, reviews and other comic book related goodness.
When issue #3 of Marvel's Crimson Dynamo hit stores last week, fans may have noticed a change about halfway through the book. "Steve Ellis has chosen to leave the series due to family commitments and we wish him the best of luck," said Marc Patten of Destination Entertainment, the company producing Crimson Dynamo for Marvel. "Steve's dynamic art will continue to grace the covers of the series through issue 6--the end of the "Motherland" story."

So who's his replacement? "Glad you asked," said Patten. "While we had hoped to find an artist similar to Steve's style, I made an executive decision to bring in a new guy with loads of talent, named Joe Corroney who draws in a more realistic art style. I discovered Joe doing Star Wars sketches while wandering around this season's comic conventions. Joe has a very illustrative style which I absolutely love, but he's toning down the incredible amount of shading and detail he uses in his other work to stay closer to the book's original vision."

This change comes at a crucial part in the story arc, as Crimson Dynamo's main character, Gennady Gavrilov, suddenly realizes that the television / video game helmet he found may not be the latest in home entertainment after all. Things start to get serious, and so does the art in a way.

"Rather than delaying the issue, we chose to use both artists and pull the switch at a crucial juncture in the story, where it gets real. Real peril. Real danger. And for Gennady, real torment."

"Hopefully the art will stand out for itself. We also brought in a veteran to add a consistent crisp ink line to both artists for issue #3, in Mark McKenna. Mark has been around a long time and has inked almost every major character for Marvel and DC. He is in the middle of a great run on Exiles for Marvel, and was kind enough to fit Crimson Dynamo #3 into his schedule. Mark is a true professional and we owe him much for stepping in.

"The rest of the team stays in place. Thomas Mason of Mental Studios our amazing digital painter (check out the cover of #4) and Thom Zahler our letterer and ace production whiz are my heroes and go-to guys. They can fix anything and turn ideas into digital reality. The critical response to John's writing has been overwhelmingly positive, both with Crimson Dynamo and Iron Man." Joe is really excited to be a part of this experience, and while I'm working him to the bone, he insists he's having a blast."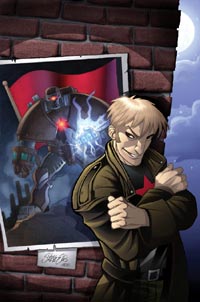 On how the series will continue:

"Once the Iron Man opportunity came along, I began considering a break following the first six-issue Crimson Dynamo storyline to be able to commit the necessary time to it," said Miller.

"Marvel is committed to at least six issues. Crimson Dynamo definitely has strong ties to regular Marvel continuity, including history that I'll touch on my Iron Man work from time to time. It's also not unlikely that some of the characters I created for this series will appear in future things I'll write for Marvel (including Iron Man), no matter what happens with the series."

Patten added, "After the first six issue arc we will take a break to let everyone catch up and get ahead if necessary. Whether the series continues with #7 later next year is up to Marvel. Everyone here is definitely committed for the long haul."

"All these decisions preceded the recent Epic submission suspension, and don't have anything to do with the other Epic titles. So we can't speak for any other series present or future. From conversations with editor Stephanie Moore, things appear in a holding pattern, with no radical changes that we've seen thus far."

And now from Joe Corroney:

AN: How did you become involved with Crimson Dynamo? Had your editor seen you do a similar character, or did he just like your overall work?

JC: I met my boss on the series, producer Marc Patten from Destination Entertainment, at a couple of conventions earlier this year when he stopped by my table to check out my Star Wars work. He was kind enough to take some of my samples with him and then in the summer contacted me when he was looking for an artist to take over the Crimson Dynamo series. So my advice to artists wanting to break into the industry is to make the big conventions and show your work around. I always seems to have better success picking up assignments when meeting editors in person as opposed to cold calling them in the mail with samples, though that's worked for me in the past too with my illustration work.

AN: You have an unmistakable style with your Star Wars work, are you still working in that style for comics and sequential story telling and what comic book artists have contributed to the style that you are using?

JC: Usually the story content or type of assignment will dictate which style approach I might go for. One thing I learned as an artist is knowing not only how but also when to shift gears in my work. That's a challenge I really find fun and appealing. It allows me to explore and keeps me fresh I think.

My work on Star Wars is usually a lot more realistic looking since it's more photo reference based. I'm always striving for that Star Wars 'feel' and getting the actors' likeness spot on in my art. As a Star Wars fan myself, it's what I enjoy to see in other artist's work too.

With my sequential work, I tend to use less photo reference since that would slow me down considerably, unless I had a healthy deadline. I'm drawing more out of my head, using more of my skills as a cartoonist in that regard. Though my same graphic sense and design skills carries over into whatever project and style I'm working in so that is usually pretty consistent for me. I think people who know me only for my realistic Star Wars art will be surprised but will still hopefully enjoy the work I'm doing on Crimson Dynamo since I'm really having fun drawing it.

Some of my main influences as a comic book artist are Jan Duursema, Tom Mandrake, Mike Zeck, Alan Davis and Ron Garney to name a few. Other artists I grew up with and am still always looking at are John Byrne, Bernie Wrightson, Frank Miller, Neal Adams, Walt Simonson, Dave Gibbons, Mike Mignola, Chris Warner, Darryl Banks... the list goes on and on. But those are definitely some of my favorites and the ones I still study and enjoy looking at.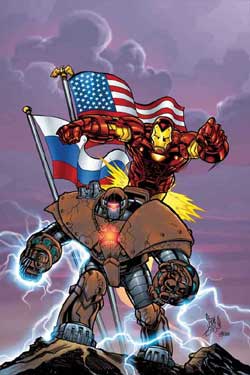 AN: Do you have other work lined up at Marvel? I have also heard that you are involved over at Avatar as well.

JC: Crimson Dynamo has me busy for the next few months. After that there's nothing that I can talk about yet. There are some proposals Marc might have me involved with if they go through at Marvel.

Not sure where the Avatar rumor came from, but I was illustrating a project for Moonstone that I had to put on the sidelines because of schedule conflicts. Fortunately my good pal Tom Mandrake is now penciling the series for them and I can't think of anyone else more talented I'd rather see illustrate the story. It's a great Steven Grant script and if I was as talented and as quick as Tom I'd probably try to juggle both series. But between Star Wars for Lucasfilm and Crimson Dynamo for Marvel, I've got my own hands really full currently.

AN: What single comic book character do you want to illustrate and why?

JC: It's hard to pick one character...but I'd have to say I'd love a shot at either doing a Spider-Man or a Batman story. Those two have always been my favorite character growing up. I've always been attracted to the darker, more fallible characters like Peter Parker or Bruce Wayne. And what artist wouldn't want a shot at Batman? He's a great character with equally great villains and has so much graphic appeal. I was big Punisher fan too and I love drawing guns and lots of action so that would be ideal to me.

AN: What is next on your plate, and where should our readers go to find out the latest news about yourself?

JC: I've got my regular work for Star Wars Insider going so fans can check out my full color art in that magazine. They can also keep their eyes peeled on my official site for the latest news on my current and upcoming projects for Star Wars and comic books too. And I usually update my site with new artwork at least a few times a month so be sure to check back often.

I hope everyone enjoyed the interview. You can pick up autographed copies of my issues of Crimson Dynamo in my Stuff to Buy section, take a peek at some of my artwork for this series in my Comic Books gallery and then be sure to pick up Crimson Dynamo #6 when it hits stands next week.

See ya next week for a new Comics 101 feature!

-Joe



<< 02/12/2004 | 02/19/2004 | 03/04/2004 >>


Recent Columns:

NEWEST
TeeKay-421 Magazine #65: A Star Wars Interview (09/05/2013)
12/29/2011
Star Wars Galaxy 7 Artist Sketch Cards - Step by Step
10/28/2010
My Top Five Favorite Horror Films, The Horrors of Canada and Movie Review - Dellamorte, Dellamore (a.k.a. Cemetery Man)
09/09/2010
Movie Review - Machete
07/08/2010
Celebration V: The Empire Strikes Back 30th Anniversary Limited Edition Print Artwork
11/05/2009
Star Wars: Clone Wars Season One Widevision Artist Sketch Cards - Step by Step
11/06/2008
You Have the Comic, Number One: A Star Trek Interview
10/25/2007
Download Zombie Prom for FREE at iTunes, My Top Five Favorite Horror Films and The Horrors of Canada
09/06/2007
Movie Review - Rob Zombie's Halloween
06/21/2007
Star Wars: Celebration Europe 30th Anniversary Limited Edition Print - Photo Reference, Finished Pencil Art, In Progress and Final Color Art and Comic-Con International 2007
05/03/2007
Star Wars: Celebration IV 30th Anniversary Limited Edition Print - Photo Reference, Finished Pencil Art, In Progress and Final Color Art and Free Comic Book Day 2007
Archives >>
Comics 101 Archives
Home | Portfolio | News | Comics 101 | Stuff to Buy | Downloads | Bio/Credits
---
© 2023 - , 153 Sheffield Way, Sandusky, OH 44870
All other ® & © belong to their respective owners.