---

Shop at my official Art Store



Become a fan on Facebook



Follow me on Twitter



View my art on Instagram


---



---




The latest art tips and techniques, reviews and interviews from my studio. Updated here and at World Famous Comics!



Comics 101 Archives


Comics 101 for 02/12/2004
Star Wars Insider #74 - The Art of Durge

My recurring feature in Star Wars Insider magazine, HoloNet News, spotlights one of the nefarious villains from the Clone Wars campaign - the love him or hate him bounty hunter, Durge, who recently appears in the brilliant Clone Wars micro-series cartoons from creators Genndy Tartakovsky and Paul Rudish.

Admittedly, before the cartoon debuted, Durge as a character didn't really appeal to me at first glance. He seemed more like a super villian than a fantasy character that would exist in the Star Wars universe. But seeing him come to life in the cartoon, with the wicked, mechanical (and maniacal) laughter, the even more wicked shape-shifting abilities and the always cool in black IG droids as his personal backup militia made me root for this character to keep bringing the pain on Republic forces. I had the task of coming up with a fourth illustration for this issue (#74) of Star Wars Insider's HNN feature and I jumped at the chance to include this character right away since I found the new Star Wars cartoon very inspiring.

Since the character was previously established in the Star Wars ongoing series from Dark Horse Comics, I utilized both sources, the comic books and the cartoon, as reference to create a version of the character that might bridge the two mediums visually. Also of help to me was studying the two different versions of the action figure created by Hasbro for this character. Here's a look at the character from the cartoon series, the comic book and the toy line.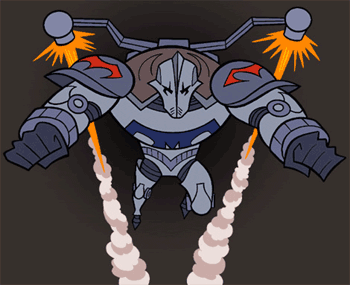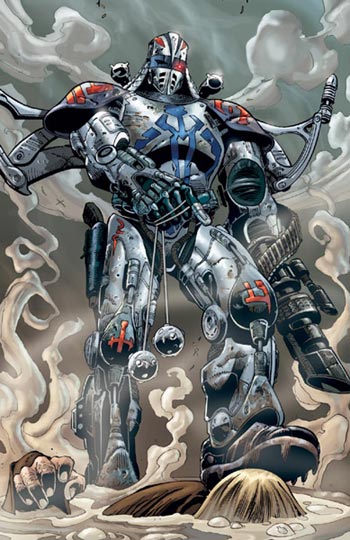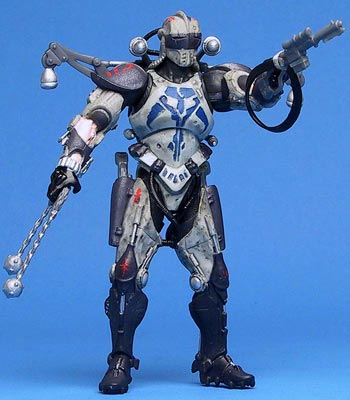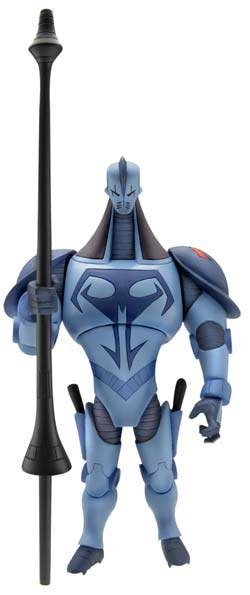 I tried to establish costume elements from both mediums to create a sort of amalgamated version of the character for his first HoloNet News appearance. The paint and markings on the armor, and the body armor itself, were more consistent with the comic book but I preferred the streamlined look of the helmet from the cartoon and used that as the basis for his look here. Though there are some subtle nods to the design of the helmet along with elements of the gloves from his comic book look as well. But I thought the elongation of the character's exaggerated neck looked really cool, especially when he moved in the cartoon. I tried to incorporate that into my art too, albeit more toned down and slightly more believable to match my usual style of quasi-realistic to photo realisitic inspired Star Wars art.

The following artwork is a look at my process of creating my version of the character from thumbnail design, rough concept sketch, pencil line art to digital, full color final.



Thumbnail Design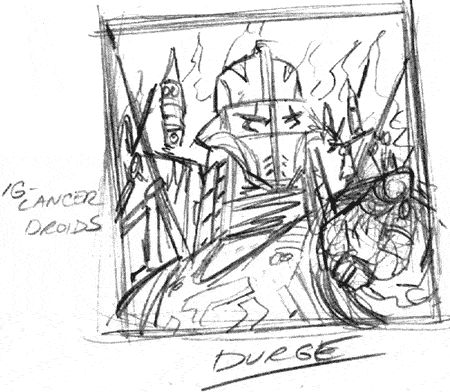 Rough Concept Sketch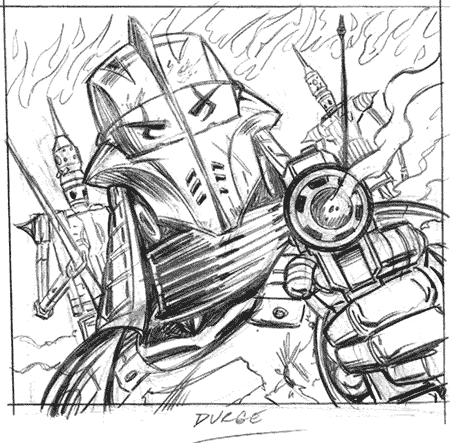 Pencil Line Art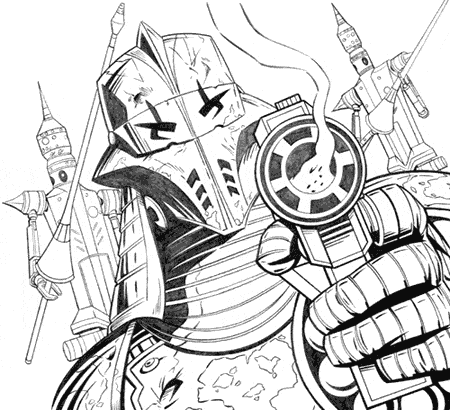 Digital Color Final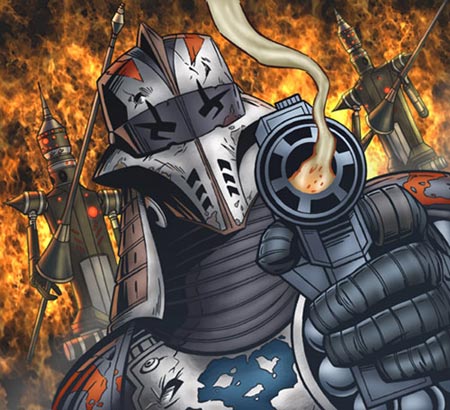 I hope you enjoyed this look at the design process for this illustration and be sure to pick up your copy of Star Wars Insider magazine from my Stuff to Buy section or on newsstands soon.

See ya next week for a new Comics 101 feature!

-Joe



<< 02/05/2004 | 02/12/2004 | 02/19/2004 >>


Recent Columns:

NEWEST
TeeKay-421 Magazine #65: A Star Wars Interview (09/05/2013)
12/29/2011
Star Wars Galaxy 7 Artist Sketch Cards - Step by Step
10/28/2010
My Top Five Favorite Horror Films, The Horrors of Canada and Movie Review - Dellamorte, Dellamore (a.k.a. Cemetery Man)
09/09/2010
Movie Review - Machete
07/08/2010
Celebration V: The Empire Strikes Back 30th Anniversary Limited Edition Print Artwork
11/05/2009
Star Wars: Clone Wars Season One Widevision Artist Sketch Cards - Step by Step
11/06/2008
You Have the Comic, Number One: A Star Trek Interview
10/25/2007
Download Zombie Prom for FREE at iTunes, My Top Five Favorite Horror Films and The Horrors of Canada
09/06/2007
Movie Review - Rob Zombie's Halloween
06/21/2007
Star Wars: Celebration Europe 30th Anniversary Limited Edition Print - Photo Reference, Finished Pencil Art, In Progress and Final Color Art and Comic-Con International 2007
05/03/2007
Star Wars: Celebration IV 30th Anniversary Limited Edition Print - Photo Reference, Finished Pencil Art, In Progress and Final Color Art and Free Comic Book Day 2007
Archives >>
Comics 101 Archives
Home | Portfolio | News | Comics 101 | Stuff to Buy | Downloads | Bio/Credits
---
© 2018 - , 153 Sheffield Way, Sandusky, OH 44870
All other ® & © belong to their respective owners.