---

Shop at my official Art Store



Become a fan on Facebook



Follow me on Twitter



View my art on Instagram


---



---




The latest art tips and techniques, reviews and interviews from my studio. Updated here and at World Famous Comics!



Comics 101 Archives


Comics 101 for 10/31/2002
Editorial: My Top Five Favorite Horror Films

Run away...'cause now it's Halloween. Shave your head and burn your jeans. Evil could be right next door... or maybe just inside this week's Comics 101 columm! That's right, cause whether you agree or not, here comes the list for my top five favorite horror films of all time! And just in time for that holiest of days (well at least in my book), "All Hallow's Eve".

I can't think of any other holiday that gets my blood pumping faster or my imagination running more rabid full of thoughts of monsters and undead eating hapless victims, serial killers stalking nitwit teenagers (and the obligatory virgin) and the occasional demonic force that could swallow your soul. Yes, I love horror movies and Halloween is the perfect time to celebrate in watching an excessive amount of this particular brand of exploitative cinema.

So if you're just a freak like me (or Justin or Tom Mandrake... sorry Tom!) and just love talking about horror movies and watching them anytime of the year or if you're planning your own costume bash or ghoulish get-together this week and need some movie ideas then you've come to the right cyberspace. I recommend visually torturing your eyeballs and annihilating your brain with any or all of these titles from this definitive list of all films fearful, frightful and freakish for your sick and twisted viewing pleasure.

5) Evil Dead 2



Let's give Justin first stab at this one....

"A cabin in the woods, soul swallowing demons and a guy, but not just any ordinary guy. Directed by Sam Raimi and starring Bruce Campbell, 'Evil Dead 2' is a excellent mix of fun, fear and style."

Very well said, Justin. This is one of the best horror films *ever* created. Not only is it scary, but it's damn funny too. It's a horror film that wasn't happy following formula so it crossed genres and escaped the mainstream, setting the standard for all "undead" features to follow. Excellent over the top acting and perfect comic timing by Campbell and inspired, eccentric and energetic camera work by Raimi. This movie is still *genuinely* scary at the all the right moments and doesn't pull any punches... or leave out any gore.

And Raimi's and Campbell's follow-up, Army of Darkness, still stands as one of the best action/horror/comedy/fantasy movies ever in my book. In fact, I think it created that mixed-up genre so it may be the only one in that particular list.

4) The Exorcist



Justin - "The plight of twelve year old Regan MacNeil is disturbing, fightening and shocking. Regan seems to suffer from some sort of mental disorder that only gets worse over time. At first, her mother turns to modern medicine and doctors to diagnose and treat her condition. She will slowly learn that it's not Regan's body or even her mind that needs to be saved, it's her soul. William Friedkin directs a compelling and true horror movie."

Again, another movie that doesn't pull any punches and made more disturbing and horrific by the fact that a twelve year old girl (Linda Blair) can be portrayed to be so insanely evil in such a believable and convincing fashion. I love the slow steady build-up of this film. When Father Merrin (Max Von Sydow) shows up to open a can of whup-ass on ol' Satan himself this movie really takes off. The theme music - unforgettable.

People tend to forget how truly scary this film is and make light of it's portrayal of demonic possession and the multitude of obscene vulgarities spewing from the mouth of a child like a machine gun. Though folks are pretty much desensitized to the kinds of images present in this film from other media today (most notably other films that were inspired from this original work), I dare you to sit in the dark and watch this in the privacy of your own home... alone.

Don't say I didn't warn you.

3) The Texas Chainsaw Massacre



From the opening shot and dialogue, you know there's something seriously wrong going to happen in this movie. It's powerful sense of impending, maddening doom threatening the sanity of a group of innocent young travelers is made all the more dreadful by the film's raw, almost documentary type feel (due in no small part to Tobe Hooper's low budget I'm sure).

This movie is more "Blair Witch" like than the Blair Witch Project really was or wish it could have been. When people are killed in this movie, it really feels like they are *killed*. It's the pacing, convincing acting, bizarre visuals and frenetic camera work that make this movie unsettling and nerve-wracking, not the actual gore (since in fact there is very little of it in comparision to an average horror film).

Justin - "Texas Chainsaw Massacre has compelled countless numbers of horror fans and remained in their minds since it was first released in 1974, but not me. I don't really feel much for this film one way or another. I have to be honest, I haven't seen this movie for a long time so this may not be a fair assessment. I'll watch it again before next Halloween and let you know what I think then."

Shame on you, Justin. You're not the true horror freak I thought you were! And this coming from the self-proclaimed lover of all films "serial killer".

Trust me folks, they don't come any more meaner, grittier or shocking than this movie. Who will survive and what will be left of them?

*Special triva or useless knowledge blurb* - The text dialogue which opens the film is spoken by none other than John "Dan Fielding" Larroquette of "Night Court" fame. Now that's scary.

2) The Thing (Carpenter's version)



John Carpenter's best film with a budget. Rob Bottin's effects are so frightenedly well done it's like watching a train wreck... with aliens. You just can't look away whenever the special effects are on display here. Well you could since you'll most likely be scared or freaked out, but you would be missing some of the best moments of the movie.

Exceptional acting by an ensemble cast including genre favorite Keith David and Wilford Brimley. And Kurt Russell is the only actor in the world who can pull off wearing a huge sombrero in artic weather conditions while flying a helicopter since he's that damn cool. The script, editing and brave yet ambigious, "un-Hollywood" ending (a staple for Carpenter's work) really put this movie on another level above most horror films.

"What can I say? This shape-changing, paranoia-inducing, ass-kicking, isolation spinechiller is another John Carpenter classic." - Justin

Definitely. To describe this semi-apocalyptic chiller thriller I think King Willy said it best, "This is dread, man. Truly dread."

1) Halloween



According to Justin, "Michael Myers escapes from a mental hospital and returns to his hometown of Haddonfield to go on a murder spree on Halloween night. It's hard to believe such a simple concept makes such a great movie... but it does. Skillfully executed, atmospheric and suspenseful. An almost perfect horror film by John Carpenter."

Almost perfect? How about the PERFECT horror film.

Like it's predecessor, "Psycho", this movie is the modern day grandaddy of all true horror films prior to and following it. It's the archetype for the teen slasher formula and set the standard for most horror films we've seen since. I still wish horror film directors today would take cues from this movie, just as you can see the influence of Carpenter taking cues from horror auteur, Alfred Hitchcock. It commands multiple viewings, much like any Hitchcock film, to see it's artistry on all of it's levels. It's not what we see of "the Shape" that scares us, it's what we don't see. The violence, gore and murders are skillfully implied, subtle and controlled along with some really tight, claustrophobic visuals.

Carpenter's creation, the unstoppable, enigmaticly evil Michael Myers is truly one of the most scary movie slashers of all time. This monstrous sociopatch still gives me nightmares from watching this movie. Even with the likable and talented Jamie Lee Curtis as Laurie Strode, veteran actor Donald Pleasance as the unflappable, obsessed Dr. Sam Loomis steals the show here and creates one of the most iconic horror film protagonists ever. And the soundtrack (written and created by Carpenter himself) alone induces serious chills and takes the visual aspect of the film to a whole other level.

Perhaps the best independent horror flick ever made (again, I say the Blair Witch can take a hike) and Carpenter's best film 'without' a budget. But like Tobe Hooper, Carpenter gets the most shock value out of his limited resources here, proving yet again that less is more. He creates the slow building, eerie sense of atmosphere superbly letting the audience explore their own nightmares and psychological baggage with his work along the way. The last fifteen minutes will chill you down to the bone.

Here's my very close calls for fifth place....

Delamorte, Delamore (or Cemetary Man)

I just *love* this Italian horror flick. There's something really refreshing and unique about this movie. It's not quite full-on horror with it's 'Evil Dead' type twisted humor and it's more artfully done than the typical horror fare. And the characters, visual imagery and storyline are really much deeper than at first glance. Rupert Everett needs to do more philosophical, macho, zombie butt-kicking type characters and leave the 'My Best Friend's Wedding' roles to other actors. He's incredibly cool and fun to watch in this movie! If you haven't seen this movie yet seek it out. Especially if you are an Evil Dead or Romero fan. The soundtrack really enahnces the moody plot and twisted characters. Wish I could own this movie's score on cd.

The Ring

I *highly* reccomend this movie. A geniunely CREEPY, HAUNTING, SCARY movie without the typical gore and cheap scares of regular horror flicks today. If you're thinking because it's PG-13 it can only be "scary-lite" as a "thriller" like "The Others" or "The Sixth Sense"... think again. This film is so much more disturbing I feel bad even mentioning it in the same sentence as those other films. This is the 'almost' perfect horror film.

If your ticker can handle the previous films I've outlined how about kissing your nerves goodbye and tackling these flicks? Here's my list of honorable mentions...

Alien
The Shining
Night of the Living Dead
Suspiria
Scream
Freaks
Pumpkinhead
Dawn of the Dead
Fright Night

Haven't seen one or two of these yet? Seek them out, you won't be disappointed.

Justin, "Joe has some great notable mentions for best horror movies. I'll match his list with mine!"

Jaws
Aliens
Re-Animator
Tremors
Susperia (No, I'm not a copycat, I like this movie too!)
The Others
Brotherhood of the Wolf
The Ring

"For almost horror movies, I'd like to mention 'A Chinese Ghost Story' and 'The Crow'."

Great list, Justin! Though I find that Jaws, Aliens and Brotherhood of the Wolf are *so* good they sort of exist outside my realm of true horror or my definition of the genre since these are truly unique works of art. In fact, these films belong in my favorite films of all time list, a list that knows no genre boundaries. I also think these particular movies succeed beyond classification because of their own brand of originality, though Aliens and Jaws are indeed truly some of the best scary films of all time.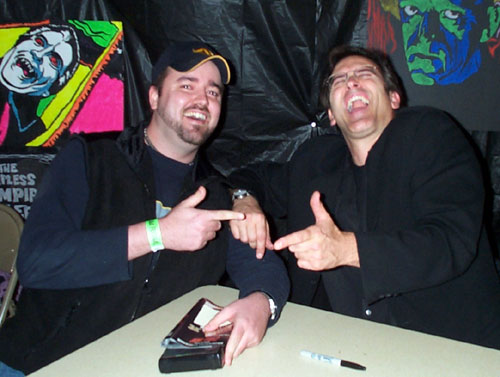 What?! Evil Dead 2 is in your top five horror films? You've got to be kidding me! Who is this guy?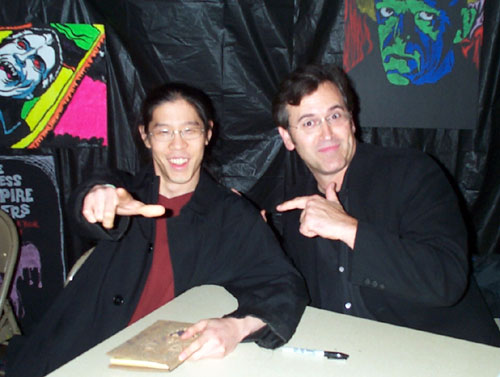 Now this guy, he has class!



Happy Halloween everybody!
-Joe



<< 10/24/2002 | 10/31/2002 | 11/07/2002 >>


Recent Columns:

NEWEST
TeeKay-421 Magazine #65: A Star Wars Interview (09/05/2013)
12/29/2011
Star Wars Galaxy 7 Artist Sketch Cards - Step by Step
10/28/2010
My Top Five Favorite Horror Films, The Horrors of Canada and Movie Review - Dellamorte, Dellamore (a.k.a. Cemetery Man)
09/09/2010
Movie Review - Machete
07/08/2010
Celebration V: The Empire Strikes Back 30th Anniversary Limited Edition Print Artwork
11/05/2009
Star Wars: Clone Wars Season One Widevision Artist Sketch Cards - Step by Step
11/06/2008
You Have the Comic, Number One: A Star Trek Interview
10/25/2007
Download Zombie Prom for FREE at iTunes, My Top Five Favorite Horror Films and The Horrors of Canada
09/06/2007
Movie Review - Rob Zombie's Halloween
06/21/2007
Star Wars: Celebration Europe 30th Anniversary Limited Edition Print - Photo Reference, Finished Pencil Art, In Progress and Final Color Art and Comic-Con International 2007
05/03/2007
Star Wars: Celebration IV 30th Anniversary Limited Edition Print - Photo Reference, Finished Pencil Art, In Progress and Final Color Art and Free Comic Book Day 2007
Archives >>
Comics 101 Archives
Home | Portfolio | News | Comics 101 | Stuff to Buy | Downloads | Bio/Credits
---
© 2018 - , 153 Sheffield Way, Sandusky, OH 44870
All other ® & © belong to their respective owners.