---

Shop at my official Art Store



Become a fan on Facebook



Follow me on Twitter



View my art on Instagram


---



---




The latest art tips and techniques, reviews and interviews from my studio. Updated here and at World Famous Comics!



Comics 101 Archives


Comics 101 for 06/20/2002
Designing Star Wars Aliens!

Episode One: The Marvel Menace

(or how I got published doing Star Wars art.)

A long time ago in an artist's studio far, far away...

There is unrest in the gaming community. Several thousand gamers across the planet have declared thier intentions for a new role-playing game since the fall of the WEG Empire. These gamers, role-playing from hidden basements and crowded apartments have succeeded in winning a new victory with Lucasfilm.

During a fierce licensing battle, Wizards of the Coast managed to acquire the rights to Lucasfilm's ultimate weapon, The Star Wars Role-Playing Game, a D-20 system so powerful with enough stats to destroy all competition.

Pursued by Wizards of the Coast's art director Kyle Hunter, Joe Corroney races home to his studio, custodian to art notes for the new magazine, Star Wars Gamer, that will restore him freelance and bring peace and justice to bookstores everywhere...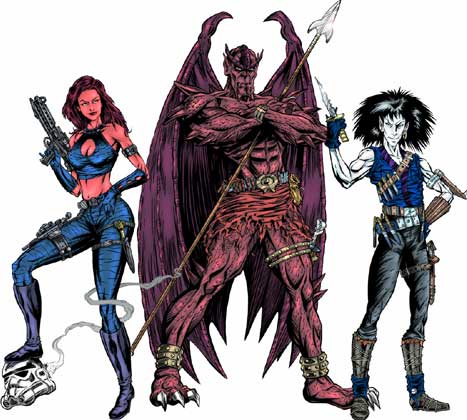 Welcome back to Comics 101! Over the next number of months I'll be in focusing on step by step articles featuring my Star Wars artwork from Star Wars Gamer magazine. Park your landspeeder and grab a glass of blue milk as we peer through electro-binoculars at the creation process, step by step, of my artwork I created for the Lucasfilm/Wizards of the Coast publication, Star Wars Gamer #1!

Before we discuss the artwork on topic, let's take a look back at when I began illustrating for Lucasfilm and what it takes to become a Star Wars artist in the first place. Perhaps with some insider info, I can give out a few hints as to what companies like Lucasfilm and Wizards of the Coast are looking for if you are also interested in establishing a portfolio and finding fame and fortune in the Star Wars universe.

My official work on the Star Wars license actually began late in 1996 when I contacted West End Games about doing artwork for the original Star Wars rpg. I had just graduated from the Columbus College of Art and Design with my degree and was very ready to take off with my illustration career. I had always been a hardcore Star Wars fan and was aware of the products that WEG was producing since I played and collected them myself.

It took a few different portfolio submission attempts and phone calls at first to get their attention but I wasn't discouraged. In my second attempt I actually included more samples of strictly color artwork of Star Wars characters. My artwork was specifically geared towards the kind of content WEG was producing for the game at the time.

As an artist, it helps to research and know your client first and to be as up to date as possible with current events as to what they are publishing. Characters, costumes, and even familiarity and flexibility with whatever styles they are using are key in impressing an editor for any publisher, comic book, gaming or otherwise.

I soon received the phone call from an art director at WEG asking if I was available to illustrate on a freelance basis for the game. As I continually illustrated for the game from early 1997 to summer of 1998 I had amassed a substantial portfolio of Star Wars artwork and had many published credits under my name. I feel that this of course helped me in securing more work with the Star Wars license once it was acquired by Wizards of the Coast last year. But just like many other artists out there wanting to illustrate for the *new* rpg based on this great space epic and work with a prestigious company like Wizards, I had to prove myself all over again.

This time the stakes were higher and the competition more fierce since a brand new Star Wars movie had since been released. And with a company like Wizards, as well as Lucasfilm, standards are raised and you've got more to gain or lose depending on which side of the deadline you are on. Hearing through the grapevine that certain rpg companies would be bidding on the license to create a new Star Wars game, I planned my method of attack.

I attended conventions earlier in the summer of 1999 showing my portfolio to many of the gaming companies who would possibly end up producing the game including Wizards. By making the right kind of contacts early on and making companies aware of myself and my work, it allowed for me certain advantages later on. Most artists, unless they pay for a 'rep' who finds work for them, need to know how to sell themselves. Confidence, professionalism and good communication skills in general are just as important as talent with a pencil or paintbrush.

Months went by as I researched and hit up my contacts I was already working with in the industry. I soon found out that just a few days before they had officially announced it that Wizards of the Coast had acquired the license.

During this time of patient waiting, I was developing brand new Star Wars artwork specifically for my portfolio utilizing skills and techniques I had learned and adapted for other gaming companies I had worked for like White Wolf and Last Unicorn Games. Once the new game was announced I immediately sent portfolio submissions to a few of the art directors at Wizards I had met at conventions as well as sending copies of my portfolios to names I was referred to there. I then proceeded to follow-up with phone calls soon afterward.

One of the art directors there, Sean Glenn, was very helpful and key in getting me re-established as an official Lucasfilm artist for this new game. He helped me to rework my portfolio as to what styles Wizards would be using and what he felt he and Lucasfilm wanted to see. Sean offered advice, criticism, and support for me (all the things a growing artist needs) and I listened... and then I did what any smart artist would do. I listened some more. I had details such as costumes, weaponry, and likenesses down which, he reminded me are the very important basics when it comes to Star Wars.

This rabid fascination I have with details is something that has always been a part of me as an artist in general and in Star Wars, there are so many cool details to notice. Of course having just about every Star Wars book, magazine, and comic book ever published along with CD-Roms and zip disks filled with Star Wars picture reference also helps. Sean suggested I concentrate on refining my illustration techniques for my portfolio and experiment with some of the styles they would be using.

Soon, Wizards announced they would be publishing a brand new Star Wars gaming magazine in conjuction with the new rpg called 'Star Wars Gamer' (originally titled 'Game Force'). My art director contact proceeded to put me in touch with the art director and editor handling the chores for this new venture and soon I had my first assignment from them.

I actually took initiative by hooking up with an established Star Wars writer beforehand (who I had already became friends with) and created rough sketches for an article he was proposing to write for this new magazine. Just before I began working on these drawings I was informed that my portfolio had been approved by Lucasfilm. I was now able to illustrate and create for Wizards' Star Wars game on a freelance basis.

As the writing was being finalized I had already begun sketching the characters so that when the proposal was completed, the Editor-in-Chief on Gamer, Chris Perkins, and my art director, Kyle Hunter, would receive a two-prong attack with text and sketches in the mail. The entire proposal was soon approved and my art director assigned me to complete the drawings in full color.

The proposed article invloved the re-establishment of notable Star Wars aliens from the original Marvel Comics series as playable characters for the new game. Marvel's Star Wars comic books from my childhood were one of the key reasons I became an illustrator in the first place. In fact, I'll never forgive myself for leaving my copy of issue #50, 'Crimson Fever Forever', out in the backyard one afternoon to get ruined by the rain.

In next week's Comics 101 installment we'll look at the rough sketches of these characters and the beginning of my art production process.

See ya next week!

-Joe



<< 02/28/2002 | 06/20/2002 | 06/27/2002 >>


Recent Columns:

NEWEST
TeeKay-421 Magazine #65: A Star Wars Interview (09/05/2013)
12/29/2011
Star Wars Galaxy 7 Artist Sketch Cards - Step by Step
10/28/2010
My Top Five Favorite Horror Films, The Horrors of Canada and Movie Review - Dellamorte, Dellamore (a.k.a. Cemetery Man)
09/09/2010
Movie Review - Machete
07/08/2010
Celebration V: The Empire Strikes Back 30th Anniversary Limited Edition Print Artwork
11/05/2009
Star Wars: Clone Wars Season One Widevision Artist Sketch Cards - Step by Step
11/06/2008
You Have the Comic, Number One: A Star Trek Interview
10/25/2007
Download Zombie Prom for FREE at iTunes, My Top Five Favorite Horror Films and The Horrors of Canada
09/06/2007
Movie Review - Rob Zombie's Halloween
06/21/2007
Star Wars: Celebration Europe 30th Anniversary Limited Edition Print - Photo Reference, Finished Pencil Art, In Progress and Final Color Art and Comic-Con International 2007
05/03/2007
Star Wars: Celebration IV 30th Anniversary Limited Edition Print - Photo Reference, Finished Pencil Art, In Progress and Final Color Art and Free Comic Book Day 2007
Archives >>
Comics 101 Archives
Home | Portfolio | News | Comics 101 | Stuff to Buy | Downloads | Bio/Credits
---
© 2018 - , 153 Sheffield Way, Sandusky, OH 44870
All other ® & © belong to their respective owners.